Bienvenue sur le forum VoSeries!
Le meilleur des séries américaines diffusées aux Etats-Unis est référencé, discuté et recommandé ici!
LES SERIES
---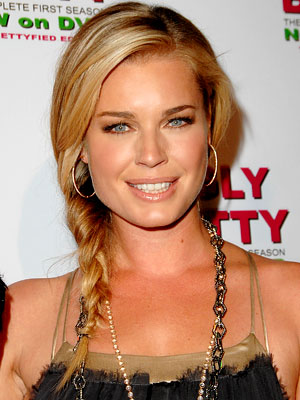 Actress Rebecca Romjin is quitting Ugly Betty after the current second season, claiming new writers on the show have wrecked her character.
Romjin has become a regular castmember since first appearing as Alexis Meade in the first season of the ABC TV show.A third series has been approved, but Romjin will only return for guest appearances - hinting that she has fallen out with new writing staff recruited after the Writer's Guild of America strike late last year.She tells NYPost.com's Pop Wrap, "They made a tremendous amount of changes, especially with the writing staff (during the writer's strike)."And
while I know I'll be coming back next season, with all the changes, I'm not sure they can take care of my character they way they have been. So I'll be leaving, back in a recurring capacity, but time for me to leave and find something else."
L'actrice Rebecca Romjin quitte Ugly Betty après la deuxième saison, en invoquant que les nouveaux scénaristes ont plombé son personnage.
Romjin est devenu un personnage récurrent après sa première apparition en tant qu'Alexis Meade dans la première saison de la série de ABC. Une troisième saison a été programmée, mais Romjin n'en fera partie que pour quelques apparitions, pointant qu'elle n'était pas d'accord avec la nouvelle équipe recrutée après la grève des scénaristes l'année dernière.
Elle a expliqué sur le site PopWrap du NYPost qu' "ils avaient fait d'énormes changements, et que je ne suis pas sure qu'ils s'occuperont de mon personnage comme avant. Je quitte donc la série, de retour de temps en temps, mais il est temps pour moi de partir et de trouver quelque chose d'autre".
Carrie Bradshaw/Gossip Girl








Nombre de messages

: 1047


Age

: 41


Mes Séries

: Desperate Housewives, House, Gossip Girl


Date d'inscription :

30/12/2006




---
Permission de ce forum:
Vous
ne pouvez pas
répondre aux sujets dans ce forum